News
October 2nd, 2022
RMPA-Con 2022
RMPA is excited to announce KJ Stafford as the first Headlining Clinician for RMPA-Con 2022!
RMPA-Con 2022 will begin at 10am on Sunday, November 5th at Arvada High School. Admission is $10, and includes lunch and raffle entry.
About KJ
K.J. Stafford is a full-time music arranger, educator, adjudicator and consultant with over 20 years of experience teaching, writing and designing for band programs and percussion ensembles throughout the United States. Ensembles performing his music include champions, medalists and finalists at national and regional championships in Winter Guard International, Bands of America, and other performing arts circuits. K.J. is also an active adjudicator for Winter Guard International.




K.J. has been involved with Drum Corps International for almost two decades. He currently serves as the Assistant Percussion Caption Head for the Santa Clara Vanguard. Since joining the staff in 2011, Vanguard has earned five Fred Sanford Awards for Best Percussion: 2014, 2016, 2017, 2018 and 2019 as well as the DCI World Championship in 2018. Prior to working at Vanguard, K.J. also taught on the percussion staff of the Phantom Regiment (2010 DCI High Percussion Champions) and the Troopers (2007-2009).




From 2006-2022, KJ was the band director and music department chair at Hickory Middle School in Chesapeake, Virginia. His responsibilities included directing the sixth, seventh, and eighth grade bands, jazz band, woodwind choir and percussion ensembles. Under his direction, the bands at Hickory Middle School consistently received superior ratings at state concert band festivals and were selected to perform at the Virginia Music Educators State Conference.




K.J. earned his Bachelor's Degree in Music Education from the University of North Texas and a Master's Degree in Secondary Education from Old Dominion University in Norfolk, Virginia K.J. proudly endorses Innovative Percussion, Remo Drumheads, SABIAN Cymbals and Pearl Drums.
Tickets:
---
July 27th, 2022
2022-2023 Pre-Season Meeting
Our General Membership Meeting will be Sunday, August 21st from 1:00-3:00. This is our opportunity to talk about policy, successes, and opportunities for growth ahead of the 2023 season! We are excited to announce that this meeting will be IN PERSON, with an RMPA instructor hang from 3:00-5:00 following the meeting. A Zoom link will be sent for those who would prefer to attend virtually.
Please RSVP below so we have an in-person headcount, and/or to receive the zoom link.
Location: Old Chicago Union, 145 Union Blvd, Lakewood Upstairs Bar Area Reserved
Perks for attending:
- 1 additional directors badge for the 2023 season
- Apps provided by RMPA
- We're pretty fun
If you would like to see any Policy or Rule changes for the upcoming season, please submit using the link below by August 8th! Proposals submitted after that date will not be reviewed or up for a vote at the membership meeting.
Proposal for Policy/Rule Change Form
Please let us know if you have any questions or concerns, and see you on the 21st! Please share this information with new instructors or folks around the circuit, this is an open meeting for those that would like to know more about RMPA.
---
May 2nd, 2022
Season Wrap Up Events!
We have two events coming up in May for directors and instructors:
Our end of season celebration will be May 15th, 2pm, at Mike and Angie Nevin's house! Please plan on bringing your own beverage of choice and a side or dessert to share. Board members will be in attendance to answer any questions about what it's like to serve on the Board of Directors if you're interested in nominating yourself or being nominated for our next term. Guests are welcome!
Our End of Season Wrap Up Meeting will be Sunday May 22nd from 1:00-3:00, This virtual meeting is our opportunity to celebrate our successes in 2022 and look for opportunities in 2023. Board of Directors elections will also happen at this meeting. Please fill out the RSVP form to add items to our agenda, as well as nominate yourself or another individual for the RMPA board of Directors. A link will be sent to all those that RSVP the morning of the meeting.
Season Wrap Up Meeting RSVP Form
---
April 11th, 2022
RMPA State Finals Parking & Ticket Info
RMPA State Finals Week is upon us! We hope to see plenty of friends, family, and alumni there to support all of our amazing performers in our final competition of the season!

Below are the details regarding Ticketing and Parking: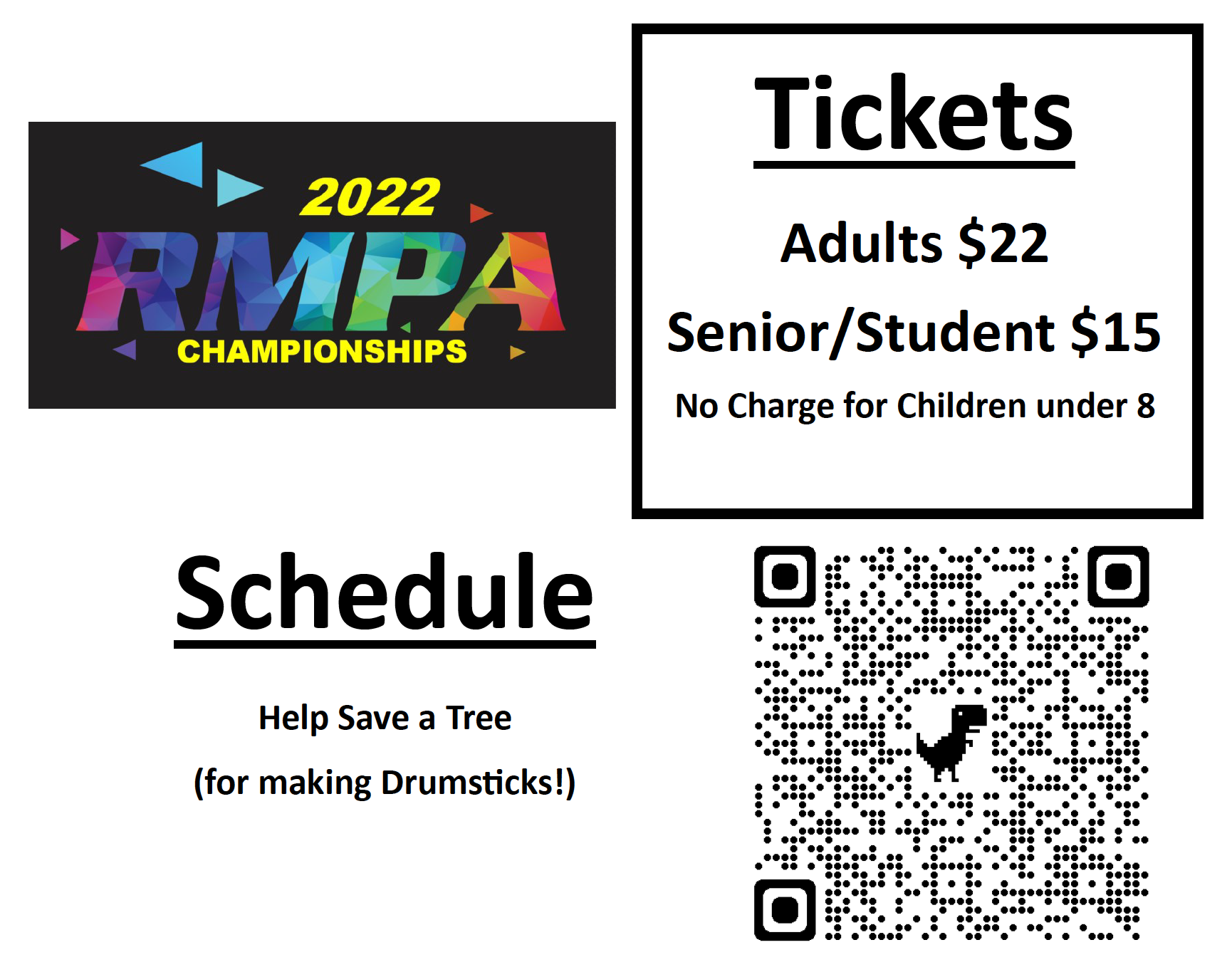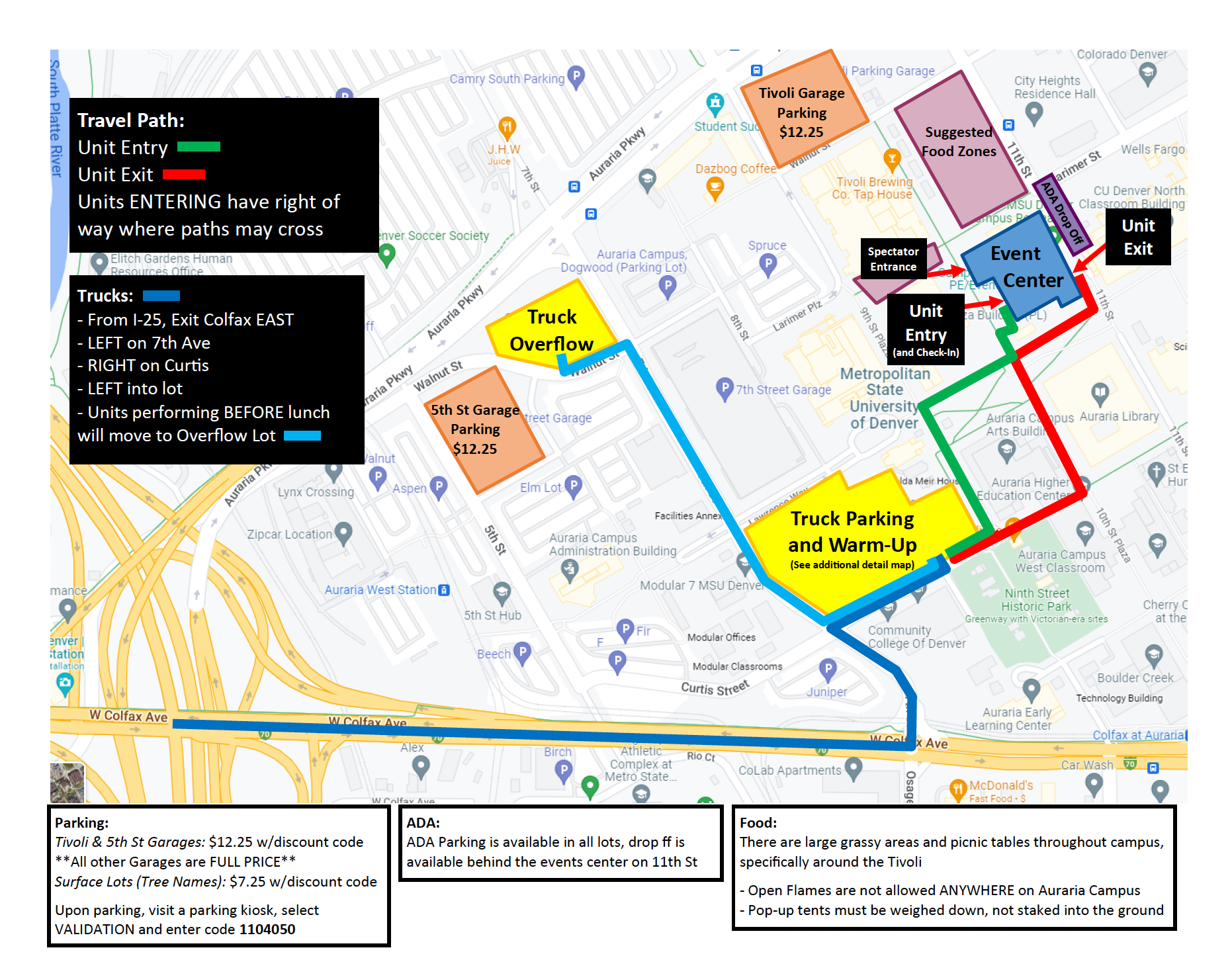 RMPA 2022 Competitions - Schedules & Warmup Info
---
March 15th, 2022
RMPA Championship Prelims Tickets!
Tickets for RMPA Championship Prelims, at Mountain Range High School, are now available! Prelims are April 2nd, beginning at 11am.
Adults: $15+fees Students/Seniors: $22+fees
Fees are optional, but help cover RMPA's costs for credit card processing and our ticketing platform. If you don't wish to cover the fees, click the "edit" option under fees when checking out.
---